BT opens new London HQ as part of major transformation programme
BT opens new London HQ as part of major transformation programme
BT has opened its new global headquarters in Aldgate, London, as part of the firm's ongoing root and branch transformation programme, which includes its offices across the UK.
The building, known as One Braham, has now opened with nearly all colleagues already working from the site.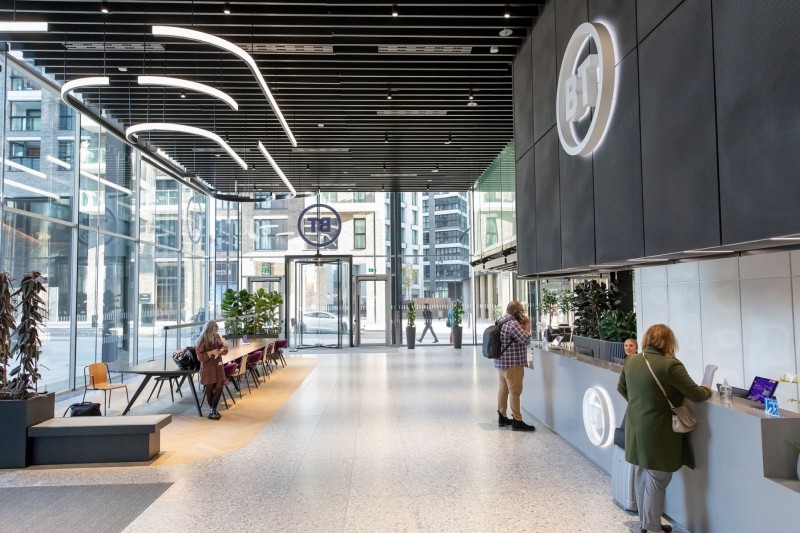 Housing around 3,500 colleagues, the new HQ will be another flagship location within BT's Better Workplace Programme – the largest workplace improvement programme and consolidation scheme of its type ever undertaken in the UK. The programme, which will complete in 2024, will see BT rationalise hundreds of its offices across the UK and establish an estate of future fit, high tech workspaces.
Philip Jansen, BT Group Chief Executive, said: "Our new HQ in London will bring our people together in an impressive and modern environment, transforming the way teams work.
"We're really excited to be moving into One Braham. It represents a changing BT, one that is more agile, forward thinking and able to adapt to the challenges and opportunities presented by the acceleration of digital technologies.
"We want our colleagues to be proud of where they work, to feel part of something brilliant at BT. Our new HQ has been designed to support our people, to enable them to be at their best and deliver great results for our customers."
The new HQ, the supporting regional hubs, revamped contact centres and specialist buildings, are expected to help BT deliver on its ambitions for sustainability, innovation, product development and excellent customer service. The first hub opened in September at Three Snowhill, Birmingham. Work is already underway on major new offices in cities including Bristol and Manchester.
Despite the Covid-19 pandemic seeing many colleagues shift to home working since March 2020, BT still firmly believes in the future of the office.
BT is adopting a hybrid, flexible approach called 'Smart Working' where teams will choose how colleagues spend time between home and their office. Shared workplaces are 'central' to BT's future, providing environments for colleagues to come together to connect, collaborate, learn, and develop, build friendships, and share their experiences.
Mayor of London, Sadiq Khan, said: "It's great to see BT's new global HQ at Aldgate opening. It will provide a great boost to the area, and, as workers across London increasingly return to the office, demonstrates how businesses can combine technology and smart ways of working to really benefit their staff."
The new HQ boasts smart building technology, flexible workspaces, and collaboration areas. There are also a range of catering options including a ground floor café open to the public, world class event spaces, and a large media screen in reception.
One Braham incorporates hot desk facilities where colleagues work in 'neighbourhoods' according to their business function.
BT recognises the important role its operations play in local communities, like Tower Hamlets, and the spend by its employees, visitors and partners can support wider regeneration in local areas. The building has a ground floor community space which will be used for community engagement and community projects.
The catering at One Braham, and at the company's site at Three Snowhill, is run by Lexington Catering, which has partnered with Change Please as coffee supplier.
Change Please is a social enterprise supporting people out of homelessness. The award-winning company provides training, employment paying the Living Wage and support with housing, finances, and therapy to help people experiencing homelessness move forward. Change Please reinvests all profits towards ending homelessness.
BT's former offices in St Paul's were purpose-built and completed in 1985, one year after the company's privatisation. Since then, the immense changes within BT and technological advancements across the industry have left the building no longer fit-for-purpose.
BT will ensure it complies with all the latest guidelines on Covid-19 from Public Health England to ensure colleagues are kept safe in the office. BT has taken all floors of the 18-storey development.
The interior of the new HQ was designed by architects Sheppard Robson and its interior design team, ID:SR, with a brief that embraces agile working, moving away from traditional office concepts. A focus on wellbeing is woven throughout the design with "community" floors incorporating a café and restaurant, spaces for socialising, and quieter spaces, such as multi-faith and contemplation rooms.
99% of the waste generated during the fit out of One Braham was recycled rather than sent to landfill (correct as of September 2021)
About BT
BT Group is the UK's leading telecommunications and network provider and a leading provider of global communications services and solutions, serving customers in 180 countries. Its principal activities in the UK include the provision of fixed voice, mobile, broadband and TV (including Sport) and a range of products and services over converged fixed and mobile networks to consumer, business and public sector customers. For its global customers, BT provides managed services, security and network and IT infrastructure services to support their operations all over the world. BT consists of four customer-facing units: Consumer, Enterprise, Global and its wholly-owned subsidiary, Openreach, which provides access network services to over 650 communications provider customers who sell phone, broadband and Ethernet services to homes and businesses across the UK.
For the year ended 31 March 2021, BT Group's reported revenue was £21,331m with reported profit before taxation of £1,804m.
British Telecommunications plc is a wholly-owned subsidiary of BT Group plc and encompasses virtually all businesses and assets of the BT Group. BT Group plc is listed on the London Stock Exchange.
For more information, visit www.bt.com/about